¿Cómo poner en alquiler tu traje?
How rent?
¿Cómo medirse?
Make profitable your flamenco clothes is easy, quickly and safe. We manage the rentals of your clothers ensuring their care.

1 Fill out the questionnaire and and send us the photographs of your dresses.
Send your proposals through the form in the section PUT IN RENT. All flamenco dresses must fulfill our quality standard to be selected and displayed on the BeFlamenca platform. 
2 Flamenco dress collection
We´ll value your clothes and in less than a week we´ll contact you to specify the conditions and collect the accepted clothes. 
3 Management and profits
With each rental you will receive up to 30% of the amount. Over a two-year period we´ll manage the rentals, keep and care the flamenco dress.
4 Get your flamenco suit back whenever you want
During the transfer period you can enjoy your costume and also recover it whenever you want whenever it doesn´t have committed rents, you will only have to pay the costs of tuning (cleaning and ironing) and if necessary the transport costs.
Commission table
The rental fee will depend on the type of dress you give for rent.
We manage your costumes safely at fairs, pilgrimages, conventions and tourism with the aim of getting more revenue for you.
| | |
| --- | --- |
| Basic flamenco dress | 15€ |
| Dressmaker flamenco dress | 20€ |
| Novel designer flamenco dress | 30€ |
| Designer flamenco dress | 45€ |
| Dressmaker flamenco kid´s dress | 17€ |
| Designer flamenco kid´s dress | 25€ |
For example, by renting your Basic flamenco dress you will get 15 euros each time it´s rented and in a period of 2 years, if your suit is rented 8 times you will earn a total of 120 euros, without any worries, we take care of everything.
This conditions are indicative when we receive your rental proposal we´ll contact you to specify them.
For the evaluation of other types of special clothes and accesories we´ll contact you when we receive your rental proposal or you can request information.
Enjoying new flamenco look is easy, just follow the steps below, and if you have any doubts contact us for personal advice.
1 Give us your measurements
Enter your measurements in the Looks browser:
Chest contour
Waist contour
Hip contour
Also take your height from the shoulder to the barefoot ground.
2 Chose your look
Select the costume you like the most and check your measurements with the costume, included in the file, you can give it a margin of plus – minus 2 centimeters. Indicate the date you need it. Complete the look with the necessary accessories. We advise you.
The standard rental period includes up to 3 days. For different rental periods (more days or rentals outside the fair) you can request information request information.
3 Book the look
To make the reservation you must pay the amount of rent.
Before picking up or sending the flamenco clothes, you must pay the deposit, which is the same amount as the rental. The deposit will be held in your account and returned a week later after receiving the suit back and checking its status.
The reservation can be cancelled up to one month in advance. After this date the reservation is not returned.
4 Returns the look
Put the dress, accessories and hangers in the box or bag where you received it and we´ll pick it up at the address you indicate. Or if you prefer, return it in our showroom.
Rental prices
The amount of the rent will depend on the type of suit.
| | |
| --- | --- |
| Basic flamenco dress | 90€ |
| Dressmaker flamenco dress | 120€ |
| Novel designer flamenco dress | 140€ |
| Designer flamenco dress | 160€ |
| Dressmaker flamenco kid´s dress | 75€ |
| Designer flamenco kid´s dress | 100€ |
All the necessary accessories to complete your flamenco look; shawl, flower and brooch, you can rent them from 12 euros for women and 10 euros for girls.
How to measure yourself?
Taking the measurements for your flamenco dress correctly is very important to find the perfect outfit.
It is recommended to be taken by someone else, although you can also do it yourself.
Use a meter of seamstress (do not use any other type of tape measure) and take the measurements shown in the image by correctly adjusting the tape measure without over-tightening or leaving it loose.
It should be measured barefoot and it is recommended not to be measured on clothing, only on underwear.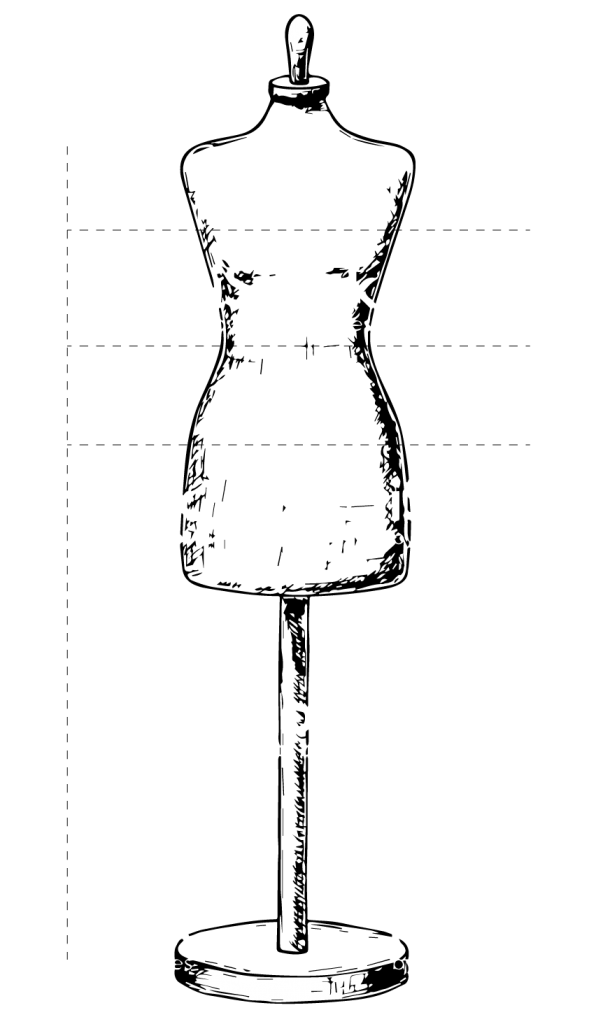 Chest
Measure under your arms around your chest
Waist
Measure around the natural line of your waist below the ribs leaving the tape measure a little loose
Wide hip
Measure around the widest part of your hips
Height
Shoulder measure to barefoot ground